Anders Björn Svensson (03/31/1978, Gothenburg) is the drummer for metal band Transferium Project. He is known for his hyper-fast footwork.

Biography
Edit
Anders started playing drums at the age of eight. Before Transferium Project, he played in a black metal band called The Shining. He met
Giorgio Galfore
when the latter was travelling throught Europe. He joined Transferium Project when Jan De Vries left. Giorgio still had his number and called him to ask if he could do an audition. He "blew us away", as Pauli said. He is the most soft-spoken member of the band.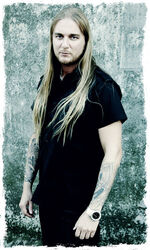 Anders (ab)uses the following gear:
Pearl drums

Paiste cymbals

Vic Firth sticks

Roland electronics

Gibraltar drum rack

Anders recently got a deal with Pearl drums. He now uses a transparent kit.
2x 22" bass drum

8" tom

10" tom

14" tom

16" tom

16x18 floor tom

18x18 floor tom

2x 14" Hi-hat
2x 16" crash

2x 18" crash

22" ride

2x 10" splash

12" splash

20" china

18" china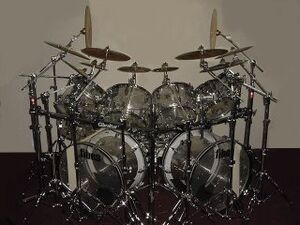 Discography
Edit
He only wrotes lyrics and always co-writes them.

He is the only member who is single at the moment.
He listens to Swedish bands as In Flames, Soilwork and At The Gates, but also likes folk music groups as the Finnish band Varttina.
Ad blocker interference detected!
Wikia is a free-to-use site that makes money from advertising. We have a modified experience for viewers using ad blockers

Wikia is not accessible if you've made further modifications. Remove the custom ad blocker rule(s) and the page will load as expected.