Brendon Ryan Peter Mitchell (Born 14th August, 1988 in Chicago, Illinois) is an American Guitarist, Vocalist. Bassist, Drummer Pianoist and Songwriter.
He is currently the Guitarist and Vocalist of Chicago based Pop-Punk/Emo band The Carpal Tunnel.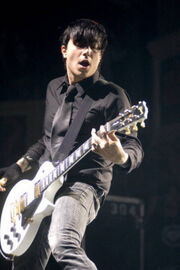 His musical career began at the age of 12, when Mitchell met Pete Toro, whom he shared guitar lessons with. Toro asked Mitchell to try out for his band The Disco. He got in and became the Lead Guitarist. Since then Mitchell has been in 7 more bands, all of them alongside Pete Toro.
In early 2010, they formed The Carpal Tunnel with Drummer Joel Bryar
Ad blocker interference detected!
Wikia is a free-to-use site that makes money from advertising. We have a modified experience for viewers using ad blockers

Wikia is not accessible if you've made further modifications. Remove the custom ad blocker rule(s) and the page will load as expected.