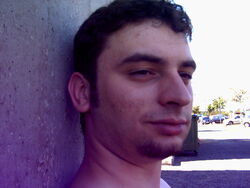 Introdution
Edit
The younger of the two greatest guitarist in the history.
With only 1 hour less of life, the "darkest of the twins" has his magic hands move like you'll say "This can't be possible!"
---
->Birthplace: Sant Boi de Llobregat, Barcelona, Catalunya, Spain
->Birthdate: 20th December 1983

---
Music Life
Edit
DaRKeR started playing the 2nd guitar in his home at the shadows of his always brilliant brother Tasinho. They like to play together, but one day, the devil played with them. Guitar Hero points and mastering the plastic Gibson started a fight that ends with DaRKeR leaved alone and Tasinho founding a band, Tensodio, with moderate success.
After some weeks, DaRKeR started Mucha Rebentación, with the idea of making something bigger than his brother.
One year after, in July of 2008, some problems with the rhythm guitar of Tensodio called Timmy Jimmy make Tasinho to ask for reunite again, and DaRKeR, after a sad goodbye to Mucha Rebentación, accepts the offering of his brother.
---
DaRKeR has been proud member of:

Mucha Rebentación (2007-2008)
Tensodio (2008-?)
Ad blocker interference detected!
Wikia is a free-to-use site that makes money from advertising. We have a modified experience for viewers using ad blockers

Wikia is not accessible if you've made further modifications. Remove the custom ad blocker rule(s) and the page will load as expected.