Daphne Aguilera



Background information
Birth name
Daphne Allison Aguilera
Also known as
Cristina's Cousin
Born
March 14th, 1990
Origin
New York City, New York
Genre(s)
Pop, Dance, Rock, Electronic, Hip-Hop, R&B
Occupation(s)
Singer, Songwriter, Model, Dancer
Years active
2006 - present
Label(s)
Dolores Hamilton Records (2006)


Skank-A-Licious Records (2006-present)
Talent Radar Entertainment (2008)
Metamorphosis Records (2008-Present)


Associated acts
Paris Zanderlight, Jessica, Natalya Banhart

Daphne Allison Aguilera (Born March 14th, 1990) is a pop/dance singer/songwriter from New York City, New York. She debuted onto the music scene with her Debut Naughty Baby Did A No-No and has since become one of the most successful pop acts in the music industry today.
Daphne is the proud daughter of Janet and Mike Aguilera. Janet is the older sister of Cristina's mother Erin. After being born, Daphne's parents were vicious stage parents, forcing Daphne to sing up to 4 hours a day under harsh conditions. They had dreams of Daphne becoming a star and would stop at nothing to have this dream realized. At the age of 7 months, Daphne was already appearing in commercials and modeling for baby clothes. As she grew older, the treatment that she got from her parents grew harsher. They forced her to live in a basement to prep her for world domination, making her watch MTV 8 hours a day, undergo physical reconstruction, as well as follow a strict diet regimen provided by the family's nutrition expert. All of this took a toll on Daphne, making her unable to bear child, which both Janet and Mike conspired to have her do for a publicity stunt when Christina was entering the foray of music. Once Daphne became a lethal force in the industry, she cut ties with her parents, effectively becoming a free girl at age 16. As of now, her parents have moved on to other things. Her father Mike is currently institutionalized at a mental asylum and mother Janet is a prostitute on the Upper East Side of Manhattan. Daphne has no siblings, although considers Christina to be her sister. A rumor surfaced in late 2008 that Daphne indeed has another cousin named Frutina Aguilera, but these rumors we're quickly denied by Daphne's camp.
Music Career
Edit
Daphne began her music career in mid-2006, shortly after her 16th birthday. With blessings from her cousin Christina Aguilera, Daphne recorded some demo tracks in Los Angeles, California, 3 of which were included on her album Spank For The Mammaries.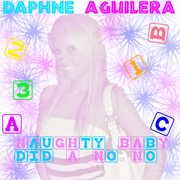 After recording the demos, Daphne went in search for record labels to sign with. After being turned down from RCA Records, Christina's current label, Daphne quit searching and went into a deep state of depression for 3 days. After receiving some counseling, she set out again in search for a record company to release her material on. She decided to post a racy ad on the internet and was shortly contacted by Dolores Hamilton Records to sign with their company. A one-album deal was quickly struck between the two and Daphne released her debut, Naughty Baby Did A No-No to the masses. The single was considered a flop with a dismal 53,000 copies sold. Daphne yet again retreated into herself, cutting off contact with the world. Delores Hamilton, along with a few of her artists nurtured Daphne out of the shadows and convinced her to release a 2nd single. The song Don't Hate Me Because I'm Beautiful (Bitch) was thus born. The title for the song came from DH herself, after hearing Daphne use the phrase while lashing out at her Undercover Haters. This single did a bit better, selling around 130,000+ copies and gave her her 1st chart position on the U.S. Singles chart. She soon released her debut album and thus the Daphne brand was born. 2 more singles was released from the album, which sold more than her previous singles. Daphne paired up with music veteran Zulema to go on tour with her in the U.S. and UK. The tour 2 Hot Girls On A Hot Summer Night World Tour was a huge success, becoming Daphne's 1st sold-out tour. Each girls performed a short setlist as well as sung 2 songs together.
The Diamond Era
Edit
Shortly after releasing her debut album, Daphne quickly began working on her 2nd album Diamonds Are A Girl's Best Friend. She wanted to depart from her teen pop image and go with a more racy, mature theme for the record. Delores Hamilton wasn't very happy with the change so soon and wanted Daphne to milk the hell out of her teen crowd, but Daphne insisted on the change of image. Their differences soon escalated and thus Daphne decided she couldn't take Delores's controlling ways anymore as they reminded her of her parents. Daphne decided to leave DH Records and start her own label.
Skank-A-Licious Records
Edit
In Septmeber of 2006, Daphne decided to break ties with DH Records and set out to start her own label. With the help of June Mushroom, she began Skank-A-Licious Records. The label was founded upon the promise that it would give all its artists equal attention and do what it took to make them a success. Soon after SAL Records was formed, artists of all kinds flocked over to join its roster, including Jack Tripper's Wardrobe, The Kid, Paris Zanderlight, Jessica, and Lizzie Crunch. Skank-A-Licious records is also most know for its highly successful compilations Skanky Love! Vol.1 & Skanky Love! Vol.2. The albums featured songs from all of the SAL artist roster and has generated tons of revenue for the label. As time progressed, Skank-A-Licous records lost contacted with its artists and Daphne soon decided that the label will be exclusive for her only and that no other artists will be signed at this time. As of September, 2008 the ban still remains.
June Mushroom
Edit
June Rose Portabello Mushroom was Daphne's publicist for a brief period in 2006. She handled much of Daphne's public affairs as well as provided much needed friendship for Daphne. While she was excellent at her job, June proved to be problematic for Miss. Aguilera.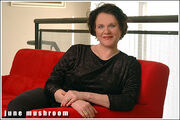 June was secretly harboring sexual feeling for Daphne and in September of '06, those feels erupted. Daphne started receiving unmarked notes from Mushroom claiming that they were meant for each other. Daphne wasn't aware these notes were from Mushroom at the time, but thought they were from an obsessed fan she had an encounter with earlier in July. Aguilera sent her body guards to "Deal" with him. A short while later, the man was in a coma. Days later the letters started to pour in and Daphne soon learned that the letters were from Mushroom herself. Days after Daphne discovered June was behind the letters, Mushroom decided she had to kill Daphne. June setup a hit at Madison Square Gardens in New York where Daphne was to be during that time, but instead Paris Zanderlight was killed. June was seen fleeing from the scene and was shortly arrested after. She has been sentenced to life in prison without parole and is current serving out her sentence at a maximum security prison in California.

After receiving comments about her image and how she wasn't "Top quality material", Daphne decided to go under the knife and get a Full-Body Makeover, which included altering Daphne's entire body structure, head to toe. Daphne was of course strongly against this, however a few people in her inner-circle convinced her it was best for her career. Daphne enlisted the help of Dr. Konckemup, a top plastic surgeon, to do the procedure. Daphne spent a total of 33 hours in the operation room over a span of 5 days. The Operation is reported to have cost Daphne over $50,000,000, which was paid off from various sources, including donations from fans, her cousin Christina, and funds from her label as well as from fellow artists.
After maintaining her new appearance for roughly 2 years, Daphne decided to go under the knife once again to do yet another full-body makeover too look Asian. The model for which she wanted to look was based on J-Pop star NaNa Ammuro. She was quoted saying she got bored and tired of her new look and wanted a change. After doing a 2nd full-body procedure, She received negative feedback from all angles, including loyal fans, who were very upset at her new appearance. In responce to this, Daphne decided to go back to her original appearance before the 2nd surgery. The stress to her body during these surgeries was minimal due to improvements in the science of how the operation is performed. She was able to return to full capacity with 2 days after both operations.
Currently living in: New York City , New York
Hobbies: Dancing, Singing, Writing Hit Songs, sex
Likes: Music, Sex, um Sex, MTV, Jerry Springer
Dislikes: Christina Aguilera (my cousin), Fur, Brad Pitt Movies
Message to fans: Lyke i'm gonna be the best pop star in the world!
Message to haters: Bitter Queens! Get over yourself. I'm sexy.
Five adjectives that best describe you: Hot, Sexy, Slutty, Talented, Fierce
Goal in life: To have a #1 Single and #1 Album, Kill Christina
Discography
Edit
Release
Title
Peak Position(s)
Overall Sales
CAN
USA
UK
EUR
AUS
ASIA
SA
WORLD
June 10th, 2006
Spank For The Mammaries
-
440
-
-
-
-
-
DNC
356,412
August 27th, 2006
Diamonds Are A Girl's Best Friend
-
37
-
-
-
-
-
1000
475,445
October 25th, 2006
Diamonds Are A Girl's Best Friend (Special Edition)
204
60
-
-
-
-
-
848
999,591
December 25th, 2006
U.S.D.A. = United States of Daphne Aguilera
34
26
-
-
-
333
-
576
1,448,560
February 14th, 2007
Ultimate Daphne
8
21
282
212
264
28
-
183
2,785,318
April 8th, 2007
A Dramatic Life
14
16
64
33
48
9
90
33
3,798,899
May 4th, 2007
Daphne, Remixed
38
45
55
46
88
40
103
33
3,319,725
July 26th, 2007
My Image Unlimited
26
25
34
82
29
21
59
36
3,763,792
August 4th, 2008
State of Mind
24
26
23
169
55
131
143
72
2,902,344
October 3rd, 2008
The Comeback
5
6
14
83
15
38
51
22
3,402,983
Collaborations
Edit
Release
Title
Album
Peak Position(s)
Overall Sales
CAN
USA
UK
EUR
AUS/NZ
ASIA
SA
WORLD
June 3rd, 2006
Naughty Baby Did A No-No
Spank For The Mammaries
-
DNC
-
-
-
-
-
DNC
53,576
June 20th, 2006
Don't Hate Me Because I'm Beautiful (Bitch)
Spank For The Mammaries
-
621
-
-
-
-
-
DNC
131,319
July 15th, 2006
Woah! Stop Fighting Over Me!
Spank For The Mammaries
-
134
-
-
-
-
-
DNC
190,916
July 26th, 2006
Can't Speak (Can't Hear You)
Spank For The Mammaries
540
165
-
-
-
-
-
DNC
304,117
August 23rd, 2006
Diamonds Are A Girl's Best Friend (Song)
Diamonds Are A Girl's Best Friend
541
94
541
560
538
573
663
463
843,189
August 30th, 2006
Hot Shots
Diamonds Are A Girl's Best Friend (Special Edition)
528
154
833
655
580
596
580
501
865,504
October 26th, 2006
'Holla N' Ya Ear (Feat. Fat Joe)
Diamonds Are A Girl's Best Friend (Special Edition)
270
84
781
690
557
526
540
419
900,220
November 7th, 2006
S.E.X. A.N.D. F.*.C.K. (Not The Same)
Diamonds Are A Girl's Best Friend (Special Edition)
125
112
758
602
563
478
522
395
988,301
December 1st, 2006
Throwback
U.S.D.A. = United States of Daphne Aguilera
168
105
663
564
511
458
477
342
1,011,262
December 29th, 2006
Promise
U.S.D.A. = United States of Daphne Aguilera
138
135
648
572
508
321
459
350
888,116
January 12th, 2007
Beware of The Dog
U.S.D.A. = United States of Daphne Aguilera
105
87
703
468
532
146
484
329
1,008,679
January 23th, 2007
Go!
U.S.D.A. = United States of Daphne Aguilera
118
58
502
391
481
188
459
260
1,100,844
February 10th, 2007
Malibu, Home of The Fierce (Feat. Christina Aguilera)
Ultimate Daphne
67
108
497
413
373
135
406
258
1,231,936
March 1st, 2007
Naughty Baby Did A No-No (Re-Release)
Ultimate Daphne
60
63
271
147
356
103
374
176
1,310,514
March 22nd, 2007
Dignity (Feat. Zulema)
A Dramatic Life
38
37
155
117
148
59
265
106
1,397,859
March 30th, 2007
With Love
A Dramatic Life
40
54
136
138
109
74
214
102
1,550,831
April 14th, 2007
Play With Fire
A Dramatic Life
30
47
57
66
80
35
101
57
1,541,912
May 1st, 2007
A Dramatic Live
A Dramatic Life
65
78
100
75
117
47
105
74
1,547,306
May 11th, 2007
Hot Stuff (I Want You Back)
A Dramatic Life
40
38
67
134
51
140
143
45
1,531,157
July 24th, 2007
Let Your Head Go
My Image Unlimited
74
57
69
247
65
145
75
94
1,446,284
August 13th, 2007
Be With You
My Image Unlimited
42
47
40
78
57
53
71
59
1,645,940
August 23rd, 2007
Generate The Flow
My Image Unlimited
51
70
71
31
41
42
56
47
1,603,537
July 30th, 2008
Desire
State of Mind
176
162
184
320
296
262
254
215
1,121,192
August 7th, 2008
&
State of Mind
72
76
78
185
149
170
168
121
1,211,965
August 24th, 2008
I Go Crazy
State of Mind
36
33
41
128
60
96
106
61
1,348,460
October 1st, 2008
Let My Hair Down
The Comeback
31
43
38
110
44
63
96
46
1,393,264
October 20th, 2008
Lipstick
The Comeback
35
44
49
101
38
59
79
51
1,467,391
November 4th, 2008
Not Such An Innocent Girl
The Comeback
26
30
32
61
50
44
46
41
TBA
November 4th, 2008
Official
The Comeback
22
9
7
44
31
30
41
23

TBA

September 8th, 2009
Flashback
Non-Album Single
119
54
44
DNC
DNC
DNC
DNC
161
549,765
2 Hot Girls On A Hot Summer Night World Tour Live
The SEX Tour - Live At The Tokyo Dome
Daphne's European Club Tour