Doll Parts



Background information
Origin
Formed in London & New York.
Genre(s)
Pop, Dance, R&B
Occupation(s)
Girl Band
Years active
2008-
Label(s)
Rated X Records
Associated acts
GirlSpice
Members
Jasmine Valmont
Savannah Waldorf
Daisy London
Heidi Waves
Erika Regal
Doll Parts are a five-piece pop group formed in London and New York. They are soon to release a promo to clubs and digital download entitled Kiss Our Lips in just a few weeks time, before releasing the debut single.
On October 20th, 2008, Katie Price announced that she had secretly been holding casting calls in both London and New York to put together a five-piece girl group. She narrowed it down to who she thought were the best, which turned out to be Jasmine Valmont, Savannah Waldorf, Daisy London, Heidi Waves, and Erika Regal. However, realizing Jasmine was the most talented, she gave her a solo contract as well.
After being chosen, the quintuplet packed into an large apartment in London where they could get to know each other and also work on their debut album with the top producers.
Jasmine Valmont
Edit
Jasmine Valmont was born March 21st, 1987 in Sunderland, England.
Born into a rich family, Valmont had all kinds of training from a young age, including vocal and dance classes. Though she had never been interested in becoming a singer, her overbearing mother forced her into long hours of training until her voice strained and feet hurt. She never forsaw, however, that she would learn to love it. She became a child star, starring in over 132 commercials, and also got small parts on sitcoms.
At the age of 17, she began dating the owner of a well known record label, and he offered her a deal. Unfortunatly, domestic issues caused them to break up, and the contract was pulled from her instantly.
It wasn't until arriving at a casting call Katie Price was holding that she got her big break. Katie decided she was just a bundle of talent and not only included her in a girl group, but gave her a solo contract. Valmont is also the main lead singer of the group.
Jasmine considers Savannah her best friend in the group, but is constantly having issues with Daisy.
Savannah Waldorf
Edit
Savannah Waldorf
was born January 15th, 1987 in New York City.
The only child to a mother, who is a former model, and a father who has made billions in the oil industry, Savannah spent most of her life in private schooling. She was very popular among the boys, but hated by the girls because of her looks and money. When she started to get noticed by the tabloids in the NYC area for her partying and boyfriends, Savannah got a taste of fame and wanted more. Hearing about the auditions Katie Price was holding, she went to the NYC section of it so quickly that she was the first in line.
Though she was accepted, it is rumored that it was because her father put up money to get her the lead vocals spot. It's also rumored that her father has been putting her through vocal lessons privately at home so she doesn't make a fool of herself.
Savannah is constantly having problems with Daisy, but gets along with the other three.
Daisy London
Edit
Daisy London was born July 6th, 1986 in New York City.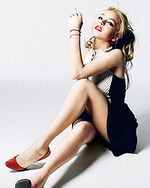 Daisy had a rough childhood. Her mother is a former dancer, and her father was always in and out of her life, abusing both her and her mother. She turned to music to shut all the hurt and abuse out. London is quite talented with a very high vocal range, but has lost a lot of work due to her destructive and rebellious attitude. However Katie believed in her, and allowed Daisy into the band.
Daisy is rumored to be extremely jealous of Savannah, who has one of the lead vocal spots. She feels she has a better singing voice and should not be singing backup. Therefore, the two are constantly feuding, which also caused a rift between she and Jasmine, as Savannah and Jasmine are good friends.
Heidi Waves
Edit
Heidi Waves was born August 14th, 1990 in Los Angeles, California.
Heidi has lived in California her whole life. Originally, she wanted to be an actress, but only ever got roles in straight to DVD films, giving her the reputation of the B Movie Queen. Her movies aren't as noticed as her antics on the streets caught by the paparazzi.
She has never had any real interest in music besides all the musicians she has dated here and there, but picked up how to carry a tune with her voice. When she heard of the girlband auditions, she flew to NYC and tried out, and was accepted. She may have the weakest voice, but she is believed to be a good fit into the band singing backup.
Erika Regal
Edit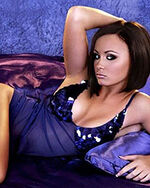 Erika Regal was born September 12th, 1989 in London, England.
Always having an interest in music, Erika used to sing at her local church and at all the school musicals. She is also very good at playing piano. Her best friend growing up was fellow Rated X Records label-mate, Ursula.
The two are very close to this day, and are always seen together in public. It is rumored that before Erika got signed to Doll Parts, she was singing all the lyrics on Ursula's yet-to-be-released debut album, however, the rumors have been squashed.
Erika sings backup in Doll Parts, although having a great voice and should be singing leads with Savannah and Jasmine. However she doesn't mind at the moment, she is just happy to be in the band and that her music career is finally going somewhere.
Discography
Edit
Main Article: Doll Parts discography
Ad blocker interference detected!
Wikia is a free-to-use site that makes money from advertising. We have a modified experience for viewers using ad blockers

Wikia is not accessible if you've made further modifications. Remove the custom ad blocker rule(s) and the page will load as expected.