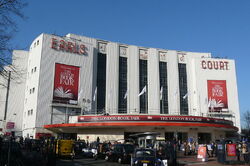 Earls Court Exhibition Centre
Edit
Capacity: 19.000
---

The Earls Court Exhibition Centre (also known as Earls Court Arena or often simply Earls Court) is an entertainment venue located in West London, England on the boundary between the Royal Borough of Kensington and Chelsea and Hammersmith and Fulham.
---
Although the venue is frequently criticised for being echoey, it is still one of the most popular arenas to play in the UK, with a capacity of around 19.000, including standing room, meaning it is often chosen over venues such as Wembley Arena by bands with a large fan base. Musicians who have played at the venue include:
Earls Court is a base for the Festivals too:
Ad blocker interference detected!
Wikia is a free-to-use site that makes money from advertising. We have a modified experience for viewers using ad blockers

Wikia is not accessible if you've made further modifications. Remove the custom ad blocker rule(s) and the page will load as expected.