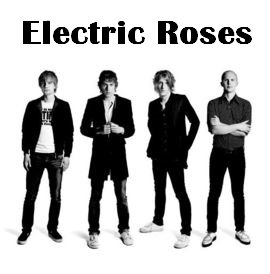 Electric Roses is a Birdie-nominated Villa Rica, Georgia hard rock band formed in 2000. The band released two albums, their self-titled debut in 2000 and 2001's Forget It!, before dieing in the summer of 2001. In 2005, lead vocalist Flander Hondison and drummer Larry Rendersn formed a new band using Electric Roses as the name (instead of their old "Python" name and released a new album on December 2, 2007 entitled NoH TyP, which contained Electric Roses' biggest crossover hits to date, "Fuck Me Long Time" and the band's first Hot 100 top ten hit, "Roll Another Joint".
Flander Hondison - Vocals and Guitar
---
Larry Renderson - Drums
---
Mike Monroe - Lead Guitar/Backup vocals
---
Jake Green - Bass
Musical style and influences
Edit
Electric Roses is known for their explicit hard rock music. They have received continuous e-mails about the cussing in their music. Every time they get one of these e-mails they like, they read it aloud at a concert and laugh and joke about it with the crowd. Flander has been quoted saying "Fuck you if you don't like cuss words in our fucking music!" at just about all their concerts to date.
Information about the band members
Edit
Flander Hondison - Born in 1986 by the name of Fernandas Hondison. His parents got divorced when he was seven; Flander was then left without a dad. At age twelve Flander found drugs which helped settle his depression. He started playing guitar shortly after which ended most of his depression, but he still stayed on the drugs.
---
Larry Renderson - Born in 1986 by a seventeen year old slut led to Larry living a hard life as a child. His mom didn't want him, his dad wasn't around, and the only people he had was the band, which was then a group of friends. He wasn't much of a depressed one, still isn't, he's the happiest one in the band, never shows any other emotion. Started playing drums at ten.
---
Mike Monroe - Born in 1986 in Atlanta, Georgia found Mike living out on the streets with his older brother. When he was twelve they moved to Villa Rica, in the band's neighborhood and they all became friends real quick. Mike introduced them to a lot of new drugs, and they introduced him to the band, he started playing the bass at thirteen years of age.
---
Jake Green - Born in 1987, is the baby of the band. He really was the baby, the band took up for him always, no one messed with Jake, they were the only family he had. Jake would often get thrown out on the streets after his dad would beat him when getting drunk, and would have to stay at one of their houses. Jake was never the one for drugs, the only drug he needed to make him feel good was love, after he started playing guitar he seemed to feel better about his life and isn't no where near as depressed as he used to be, at age eleven.
---
Band Biography
Edit
During Electric Roses' first days, Flander was working at a teen-sensation clothing store. Flander hated the job, but he used it to his advantage when he got the store to sponsor his band. With the band being sponsored, all the band had to focus on now was writing great songs and playing great songs. After months of writing and recording hundreds of songs in Jake's uncle's studio, Electric Roses released their first demo entitled: Justice is Dead.
The band had only played in front of drunks in bars, nerds in coffee shops, and very rarely played with any other band. They didn't really have what many would call a "fan base". This meant that the band would have to either come up with a clever way to get recognized, or wait for a record deal to fall from the heavens. Luckily, Jakes uncle was able to get their music on a radio station, with little work. Well, if you wanna' call it that. Jake's Uncle snuck into a radio station one Friday night and switched one of the scheduled cds with one of Electric Roses songs from their album (Justice is Dead). This got Jake's uncle arrested, but at the same time gave Electric Roes a record deal and a fan base around their home town.
With a record deal, Electric Roses was able to record a full length album in a high dollar studio. Soon, Electric Roses released Python and was all over the radio stations in America. A year later, "Forget It!" was released under KillthePoison. Right after this release and it's promotion tour, Electric Roses had a huge scuffle within the band, causing the band to go on haitius. They felt a break was better than a breakup. The band finally broke up in 2002, with Flander saying "Electric Roses will return when hell freezes over."
In 2007, hell froze over when Electric Roses released "NoH TyP". The release charted #1 on the charts, and quickly gave Electric Roses back mainstream status.
Discography (albums)
Edit
Discography (singles)
Edit
Ad blocker interference detected!
Wikia is a free-to-use site that makes money from advertising. We have a modified experience for viewers using ad blockers

Wikia is not accessible if you've made further modifications. Remove the custom ad blocker rule(s) and the page will load as expected.