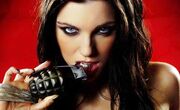 Gemma Ferns

Birth Name

Gemma Louise Ferns

Born

August 10, 1989 (aged 20)
Camberwell, London, England

Occupation(s)

Singer, Songwriter

Instrument(s)

Vocals

Genre(s)

Alternative Rock, Alternative Metal

Years Active

2007 - Present

Gemma Louise Ferns (born August 10, 1989 in Camberwell, London) is an English rock musician and lead singer of English rock band Live Youth. She also fronted the alternative rock band Rebel Uprising.

Background
Edit
Gemma Ferns was born in London, England, to Ellen and Jonathan Ferns. She was raised in Camberwell, London, where her family still live. Ferns grew up with an older sister, Shorna, two older brothers called Eli and Adam and a younger brother called Leigh. Growing up, Gemma was described as "the brains of the family", leaving school with 11 A* - A grades and was apparently set to go to college, but cancelled those plans when Rebel Uprising got signed to Death Records in early 2006. The band changed labels numerous times in their three and a half years, but then finally decided to split in mid 2009. This did not put Gemma off, however, and a month later she created a new band, Live Youth, consisting of most of the members of Rebel Uprising, plus two more additions. She has two sons, adoptive son Caleb, 3, and biological son Kai, 10 months, with Billy Maddison. She is also pregnant with a second child, also fathered by Maddison.

Teenage years and Dean Keller
Edit
When she was 14 years old, Gemma met 19 year old Dean Keller. The pair struck up a close friendship and began writing and playing music together almost daily. The pair, predictably, began dating when Gemma turned 16. Gemma left school and, when she informed her parents that she intended to persue a career in music rather than attend college, she was thrown out of her parents' house and disowned. She originally stayed with her grandmother for a few months, until her death, and then slept on friends' couches until she ran out of friends to put her up. Dean, who by now was 21, stepped in and offered her to live with him in a small studio apartment. When his best friend, John Tulbuck, got sent to prison for 8 years, Dean made a decision that Gemma later said "proved to her that Dean was the man for [her]". Tulbuck had a three month old baby, Caleb, who would be left parentless after his mother died during childbirth. Dean decided that, together, he and Gemma would raise the baby as their own to prevent him going into care. As Gemma was too young to formally adopt the child, Dean completed the papers, while Gemma moved in with Dean and baby Caleb, playing an active role in raising the baby. On Gemma's 18th birthday, when Caleb was almost two, she signed papers to become the toddler's official mother. This was a time of high responsibility and stress for the teenager as she juggled part time work, forming the band, being a mother and dealing with Dean's increasingly frequent drug abuse as he sunk into cocaine addiction.

Band Formation and signing
Edit
After four years of playing with each other, Gemma and Dean joined forces with three mutual friends they met over the years: Justin McClain, Jamie Walsh and Chris Ulrich. The five became known as Rebel Uprising and, after playing a series of gigs in Camden, they released their first single "Thanks For Getting Over Me". They were quickly snatched up by Death Records, and released their critically acclaimed debut album "The Red Manifesto". The band found national and international success, however, after they toured with superband Aerospliff, The most dangerous band on the planet]], and Gemma scored a top 17 hit with Aerospliff's Reef after duetting on "Can I Touch U There?". Three albums later, the band no longer consist of Jamie and Chris, the pair having been replaced by Guy Collins and Tyler Albright.

Personal Life
Edit
Gemma has had a high profile, and turbulent personal life since the band became well known. When she first joined the band, Ferns split with Dean and shortly after had a high profile, and ongoing fling with Reef. This came to an end when she began talks with Dean about restarting their relationship. Those talks failed, however, after a sex tape of Gemma and Thunderwolf's Raven was leaked by bitter ex-bandmate Jamie Walsh. Gemma and Raven were unaware of the footage being filmed and Walsh was consequently charged with voyerism. A little while later, Gemma went on to date Chris Pratt, of Moronic Changeling, but that was not to last as Gemma, again, returned to Dean Keller. Gemma has described her relationship with Dean as "the most wonderful blessing, but at the same time its a curse. I love him deeply, but sometimes he does things that makes me wish I didn't" adding that "even when we're apart, I can never move on".
Gemma was apparently in talks with Dean about commencing their relationship when she entered the jungle for TV show I'm A Rockstar - Get Me Outta Here, but again, these plans fell apart after she left the jungle, discovering that Dean had started taking cocaine again and had been sleeping with Paris, from GirlSpice. After a long break from dating, in which time Gemma curbed her partying to concentrate on being a good mother to Caleb, Gemma met and fell in love with American musician Billy Maddison in early 2008, and they quickly became engaged after Gemma discovered she was pregnant with his baby. A few months later, however, she was left heartbroken as she discovered her dates may have been mixed up and Raven may have been the father, after a repeat of their previous hook up, a few weeks before her relationship with Maddison became official. When Maddison found out, he left Gemma, leaving her devastated. He then disappeared and was feared dead for ten months.
In this time, Gemma and Raven tried to make a go of a relationship for the sake of their unborn child, and for a while things were going well. Gemma moved to California to live with Raven. However, shortly after the birth of her child, Kai, Raven began disappearing, spending less and less time with the family and refusing to tell Gemma where he went on his weeks away. Eventually, Gemma snapped, moving herself and her children out of the home and back to London, where she moved back in with Dean Keller, who she has always remained extremely close friends with.
Recently, however, Gemma's life became even more hectic after ex-fiance Billy Maddison turned back up at her home, requesting a DNA test after spotting the remarkable similarities between himself and 7 month old Kai, saying he "sees himself in every single one of Kai's main features - his eyes, nose, lips..." The DNA test confirmed Billy's claims and the pair picked up where they left off, becoming engaged again, living together with the two children. This was not to last, however, after Gemma dumped Billy after she discovered he had cheated on her in mid 2009. As of early August, however, it was confirmed that Gemma is three months pregnant with another child by Maddison, and the pair may be resuming their relationship after the pair both admitted they "still loved each other deeply".
Gemma now lives with Billy in a home in West London, along with their two children and six pets, including two dogs named Judas and Jaspaar. The pair also own a home together on Sunset Boulevard, where Gemma always said she dreamed of living. Billy has recently stepped up security around both the homes, buying electric fences and security cameras and systems after Gemma became scared of Brisky, who has been stalking Billy since their affair ended. Gemma's baby with Maddison is due in late January 2010.
Ad blocker interference detected!
Wikia is a free-to-use site that makes money from advertising. We have a modified experience for viewers using ad blockers

Wikia is not accessible if you've made further modifications. Remove the custom ad blocker rule(s) and the page will load as expected.