Infernal Tribute

Origin

Tallin, Estonia
Madrid, Spain
Vilnius,Lithuania (now)

Genre(s)

Grindcore (early)
Death Metal
Experimental
Progressive metal

Years active

1999 - 2003
2005 - 2008
2009 - present

Label(s)

Members

Former members

Miguel
Argot
Viking
Raffa
Fernando
Julian

Associated Acts

Infernal Tribute is a death metal band originally from Tallin, Estonia. The original lineup consisted of Chuck (guitars/vocals), Argot (guitar), Worm (bass), Viking (drums). Chuck was the only original member left in the band but Worm, one of the original members, has returned to the band
The Beggining
Edit
Infernal Tribute originally formed in Tallin, Estonia in 1999. They started off as a usual grindcore band like many in their region. In 2001 they recorded their first demo Bastards!!. After that they did some small gigs in cities like Siauliai, Klaipeda, Ryga. In 2002 they recorded their second demo Brutal Domination and after a few months they got a contract with Negative Records. The same year they got invited to play at Moscows famous "Gorehead" grind fest, shortly after they released their debut album The Last Days.
Band History
Edit
2003 was a problematic year for the band. They had to cancel the release of their second album due to serious financial problems of the label. The material hasn't been released to present day. After some argues with the label the band suffered more problems. The band members got involved in a fight after a few weeks in a local club. Chuck and Worm got injured,Viking seriously injured and Argot was stabbed to death. After the event Chuck was called to court and was announced not guilty. After a few more days Viking succumbed to head injuries sustained the day of the fight and died in the hospital. Chuck comments of the event that they were just attacked suddenly by some group of people. After this event the rest of the members that were still alive decided to part their ways.
Chuck decided to leave Estonia and travel to Spain and there continue his politology studies. Worm joined the industrial/gothic band Moonshadow
After the split up
Edit
In 2005 Chuck decided to revive the band in Spain with a new lineup. He offered Julian and Fernando that were his classmates to join the band. Fernando recommended his good friend Miguel to fill the bass guitar position. The band with the new lineup did some gigs playing their old songs. In 2006 they released their second album Conflict And Death featuring the old grindcore sound but with a little turn towards death metal and the songs included less lyrics about politics. That year the band limited their live performances, making shows only in a few summer fests.
The following year the band released their third studio album Brutal Orgasmic Symphonic Orchestra. Almost all of the grindcore sound was thrown out and they moved towards a more death metal oriented sound.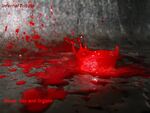 Their 4th Studio album
Blood, Sex And Organs
featured a polished up straigthforward death metal sound which was praised by fans all over the world. Metal magazine Terrorizer gave the album a high rating and commented "This is how modern death metal should sound". Some months after the release of the album the band did a mini Tour arround Germany, Holland, Belgium also making an appearance in Hollands
After the tour the band dind't stop and started making material for another album. The band let fans download for a limited time Five Tankards Of Dwarven Beer from the upcoming album. Fews months later the album called The Satanic Cult Ov Beer was ready and released. The album differs a lot from the previous albums. The sound became even more jazz oriented and started moving away from their death metal roots to a more progressive form. It features a high level sound quality unlike previous releases and lots more of the bands black humour. Jesus(previously he helped them record Blood, Sex And Organs) came to the band as a full time member,while the services of Raffa ( session/live guitarist) were dismissed. The band then travelled to Amsterdam except Jesus who was helping Sisyphean recording their Enemy of the Grand Design album. In Amsterdam they signed a contract with Sturdy Dolmen Records which wouldn't last for long and record a split with stoner rock/metal band Super Highway Techno Buddha. The split wasn't done to its full because members of Super Highway Techno Buddha just dissapered. The material hasn't been released to present day. In August the band appeared in Earl's Court in London where Blood Of Wecz were presenting their newest album. After the gig, the following months the band was on hiatus, but that didn't mean that the band were inactive musically. Jesus and Miguel formed a sideproject called Sons Of The Reich which is followed by lots of controversy and criticism. They were immidiatly signed to Shiny Metal Ass Records and recently released their debut album Nazi Fan Party In McDonalds. Jesus and Miguel again helped Sisyphean record some new material.
Another break-up and reunitment
Edit
In autumn the band started recording their new material in their private studio outside Madrid. The album was fully recorded and everything was ready for mixing, but the band was caught in a car crash travelling to Madrid. The bands bus collided with a truck carrying pipes, injuring Chuck and killing Julian. The accident was revealed to the public only after a year and the band cancelled the release of the album because as they stated in an interview we cancelled the release cause we all felt we can't release this without Julian. The band broke up after the accident although nothing was told about it.
After the accident Chuck and Jesus decided to return to Lithuania and Fernando to Portugal. Some months past Chuck with Jesus decided to revive the band again. Fernando and Miguel denied the order to reunite so they invited some old friends back. Worm returned to the band taking up the bass guitar position and Sargos an old friend of Chuck took the position of drummer.
Recently the band has stated that recordings of a new album ,with some of the material from the album that wasn't released before the last break up, are going to start in the end of June after the To Rome Tour with Stronghold,Sankarihauta and Quarantine. Chuck has also mentioned that lots of guests will appear.
In may the band has told that a sideproject under the name Psycopatholigist has been formed with members from Sudan,The Black Gates and The Waiting Room. Rick Fisher has stated that they'll be playing old school crusty grindcore with such influences like Napalm Death, Brutal Truth, Repulsion, Terrorizer and Carcass.
Musical Style, Influences and Lyrical Content
Edit
The band started off as political grindcore band. Through time the band's grindcore sound dissapeared and they evolved into a death metal band. Though Infernal Tribute is currently a death metal band it's musical style has also been influenced by rock, jazz and blues. The band has cited 3 main influences: Pungent Stench, Carcass and Entombed but also such bands as Death, Tankard, Gojira, Napalm Death, Anal Cunt, Stephen Lynch, The Black Gates and Darkthrone were mentioned too.
The band suffered a lot of critisism at the beggining of their career due to their nazi idealogy and lyrics. They were even banned from some venues in Germany. After the release of their second album their political lyrics started to dissapear. As their musical style started to change the lyrics changed too, Blood, Sex And Organs and Brutal Symphonic Orgasmic Orchestra deal with dark humoristic, gore and sexual lyrics.
Discography
Edit
Demos
EPs/Singles
Studio Albums
Ad blocker interference detected!
Wikia is a free-to-use site that makes money from advertising. We have a modified experience for viewers using ad blockers

Wikia is not accessible if you've made further modifications. Remove the custom ad blocker rule(s) and the page will load as expected.