Insert Coin

Origin
London, England
Genre(s)
Progressive rock (early material)
Indie pop
Indie rock
Post-rock
Noise pop
Alternative
Years active
2007-present
Label(s)
Eventual Records 2007
Art is Bullshit 2008-present
Website
thisisnotarcade.co.uk
Members
Wade Puckleseed
Anna Leroux
Philomon Auckland
Elizabeth Ladd
Morton Gallagher
Former members
Yaroslav Buglovski
Insert Coin is an English indie rock band, based in London, England. The band was founded by Philomon Auckland (bass and back vocals) and Morton Gallagher (drums), who then later passed by several line-ups and names and finally stayed with the actual line-up.
The band started as a "progressive indie rock" quintet and, after an EP release, were quickly signed by now defunct label Eventual Records. With Eventual, the band released another two singles and one full lenght album, From Another Planet, which had well media response. Then, some months after being absent, the band released their second LP entitled Strip Poker, which had a completely different sound and more proffesional production. It received better critics than it's predecessor and sold far better.
Early life
Edit
Auckland and Gallagher were best friends since they were 3. At the age of 14, both received their first instruments. They started to play Pink Floyd songs in Gallagher's basement. One day, they met Doug Stone, a guitarist of a local band from which he was recently kicked out. The trio started to play under the name of "Choke", and they started to get famous in the local underground scene. Stone had to left the band months later because his parents were angry with him because of his poor exams at the school.
They finally found a replacement, Andrew Carrington, who was three years bigger than them and had about 8 years playing guitar. They changed their sound to something more like pop-rock, and their name was "Obscene Children". Their first demo, "The Crime Scene" didn't succeed, and both Auckland and Gallagher decided to kick Carrington out of the band. They changed line-ups several times, and names like "Angola", "Working-Class Manufacturers" and "The Joints", 'til they finally saw Wade Puckleseed playing with "The Brainless Rabbits", a popular local rock act. They asked him if he wanted to join them, and he finally accepted.
With the time, they met Elizabeth Ladd, the actual keyboardist, who joined one year before the band's official debut. Then, they were called "One Million Changes", and released a promotional demo, "She Says I'm Drunk", which sold good. Yaroslav Buglovski, Ladd's neighboor, heard them playing at her house and was totally amazed. He asked them to join as guitarist, and he did. Finally, they changed their name to Insert Coin, and entered the studio to record a new EP.
Black Moons and the Other Horrible Things EP (late 2007)Edit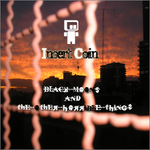 The band entered the studio and recorded three songs for their upcoming EP, entitled Black Moons and the Other Horrible Things. It had a sound far better than their previous releases and the songs were way better than their old songs. The EP had a great reception and Eventual Records inmedeately offered the band a contract. After they accepted, they entered the studio one more time to record their first full lenght album.
From Another Planet and leaving Eventual (late 2007-early 2008)Edit
The whole band entered the studio, motivated by their first EP success, to record their debut studio album, From Another Planet. Some of their old songs were re-recorded during the album sessions, though they didn't were included in it. Ten days before the album release, a single entitled "Are You the Destroyer?" was released to promote the album. It charted #197 in European charts and sold almost 160,000 copies. It had a little radio airplay.
When the album was released, it had a little attention by the media. It sold more than 580,000 copies in the UK and Europe, and charted #135 in European charts. It didn't make the impact the band thought it would have, but they weren't dissappointed.
However, the band went on a tour around the UK and some cities of Europe. Almost every venue sold out, so this kept the band happy. But, after the tour, the band (like some other bands) had an incident with their label, Eventual, and they were forced to leave.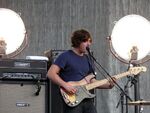 Some months before the release of their second studio album, the band released "Invisible to the Eye" as a single, which was a surprise for those who thought that the band was dead. Auckland said that this would be the last release from their first album, closing a little cycle in the band's life.
Strip Poker (early 2008)Edit
In early 2008", Auckland posted a message in the band's official MySpace saying that "they weren't dead" and that they would enter The Dorc to record their upcoming album, entitled Strip Poker. He said that there will be a change in the band's traditional sound, and will be something like indie-pop, influenced by bands like of Montreal and Stereolab, and also some britrock bands like The Stone Roses and Stereophonics.
After an announcement by Elizabeth Ladd in the band's official website, the lead single of the album, "Brillian You" was released, on March 4th, 2008. This was the best charting and selling single of the band so far, peaking at #155 in European charts and selling over 550,000 copies.
The album was originaly set to be released on March 14th, but it was released two days before due to problems with distributors. In the same day, the second single of the album, "That '90s Teenage Love" was released. The album was, without a doubt, a total revolution in the sound of the band. It's notable its professional mixing, the use of voice and guitar effects (like echoes) and the change from progressive indie rock to a more experimental indie-pop/britrock and post-rock influeced sound.
To Use With Children (May 2008-present)Edit
After doing a short tour around the UK and announcing dates for other countries of Europe, the band announced that they were writing and demoing for what was going to be their third studio album, then untitled. The band members didn't talk a lot about the sound of the new album, but they mentioned, as possible song titles, "Poliphonic Snob Sounds" and "Sunset".
Recently, Elizabeth Ladd posted a message on the band's blog announcing that they were finishing the recording of the album and that it would be released in mid-August. They are planning to promote the album with a tour around UK, Europe, South America and Canada.
Finally, a new message on the blog, now by Philomon Auckland (bassist, vocal and main songwriter), appeared showing the album's artwork and tracklisting. It's going to be called To Use With Children and will feature, as Auckland mentioned in an interview a "much more estructured sound, with more instruments and effects, a lot of noise, indie pop and post-rock" and added that they're "finally getting their own sound".
The first single was also announced, it will be "Poliphonic Snob Sounds".
Musical style and influences
Edit
Although their latest work is being compared with The Seymours, the band cites as influence many bands like Pink Floyd, The Strokes, The Libertines, The White Stripes, Genesis, King Crimson, Stereolab, of Montreal, Placebo, The Futureheads, Stereophonics and The Stone Roses.
Discography
Edit
Studio albums
Edit
2007: Black Moons and the Other Horrible Things
2008: iTunes Sessions EP
Ad blocker interference detected!
Wikia is a free-to-use site that makes money from advertising. We have a modified experience for viewers using ad blockers

Wikia is not accessible if you've made further modifications. Remove the custom ad blocker rule(s) and the page will load as expected.