JoRock

Founded

2008

Band Genre

Indie

Years Active

2008-Present

Origin

Madrid, Spain

Label (s)

Website
---
JoRock, are an Indie band which consist of 3 members, Steven Carruthers (singer), Christopher Ayr (Drums),and John Terry (Keyboard) and formed in 2008 by Steven Carruthers and band producer Tom Ellard.
---
JoRock were formed when Paul Butcher set up an advert in his local paper. His band manager, , and himself then held auditions and offered Richard Blakely, Christopher Ayr and Steven Terry seperate contracts which they all accepted, thus making JoRock. JoRock started quitely doing monthly gigs at local venues and events. After a fallout, Richard Blakely left JoRock which left a space in the band. They temporarily went on a break, but then reformed with a new Drummer Stephen Carruthers. They then were signed by GoRecords and have released an album under this label.
Debut Single
Edit
On 5 June 2009 JoRock were signed to GoRecords. Their first EP single, "Navy Express", was released on 22 June 2009 and is the quickest released EP after being signed in track history.
The debut album from JoRock is to be self-titled, and is expected to sell over 700,000 copies. The band are currently aiming to release each track from the album as a separate stand alone single. It was announced in March 2009 the band would play second on the NME stage at T in the Park, after The Wombats and before Feeder. "I'm sure that is in someway significant", noted Churchouse. They also played the main stage at Oxegen Festival 2009, the 4Music stage at 2009's V Festival, and in October 2008 appeared at the Big Gig, a concert for members of Girlguiding.

Pirate Island Tour
Edit
JoRock's most succesful tour happened on the 24th June 2008 at Pirate Island in Spain. Over 26,000 people watched them perform, with a massive cheer as they stepped up after DJ Sammy.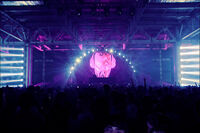 It was part of a 'Get to know your locals better' campaign organised by the Madrid Council. JoRock sang their most famous songs including their cover of Innercity Life with close friend Eilish Frings, and Milk Fish. JoRock also performed an exclusive one-of-track with DJ Ironik which they had made in secret. Various complaints were made how nobody could download the song as it was such a popular track with the audience. Estimates that over 20,000 phone video clips were taken during the middle of the song, but have all been banned from youtube due to order of copyright. JoRock is expected to return to the Pirate ISland Arena for his second time in 3 years. Although this time it will just be a gig for himself and not several artists. Tickets have been announced for sale and are expected to soar through to a sellout. When quizzed about how they enjoy singing in the arena they replied 'We just love it! The atmosphere is amazing and the crowd seemed to love us last time. We Can't wait! Can you?!' Rumours were spread that Pop sensation Robyn with chart hitters 'Every Heartbeat', and 'Who's That Girl' would be singing with JoRock on their return but on the 3rd of May they were ruled out by Robyn herself when questionned about JoRock.  
Carrer (After Reform)
Edit
JoRock (Album)
Edit
There Self-titled first album was released on the 15th August and reached number 3 in the UK Album Charts and number 6 in the US Charts. It has sold a total of 999,362 copies. They have released every single on the Album with 3 songs on each album. JoRock released a statement on the 21st August stating how proud and pleased they were to reach number 3 in the UK with their first ever album. "We couldn't believe it. We were all gathered around at my house and listening to the chart show on Radio 1 in Dumfries, which is in Scotland by the way! We were over the moon and would like to thank everyone who bought it for us, and we look forward to releasing our singles from it."  in the NME magazine.
Discography
Edit
Navy Express (2008)
My mom&pop (2008)
4or a Teen (2009)
Extra-Long Hours (2009)
Yes, Please, Turn Me On (2009)
Off in the Night (2009)
no title (2009)
Stinkin' Rich (2009)
Ad blocker interference detected!
Wikia is a free-to-use site that makes money from advertising. We have a modified experience for viewers using ad blockers

Wikia is not accessible if you've made further modifications. Remove the custom ad blocker rule(s) and the page will load as expected.