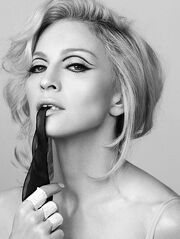 Madison O'Leary is an American pop singer that came onto the scene in early 2009. She is currently working on her debut album, which is yet to be titled.
M was the title of Madison's debut album. M was released on July 23, 2009.
Fighting Spirit
Edit
Fighting Spirit is the title of Madison's second album. It was recorded in July of 2009 in London, and does not yet have a release date.
---
Beat The Clock World Tour
Edit
Madison opened for the US leg of Aurora Fortin's Beat The Clock World Tour. The dates she played were from 21 May 2009 to 27 June 2009.
---
Ad blocker interference detected!
Wikia is a free-to-use site that makes money from advertising. We have a modified experience for viewers using ad blockers

Wikia is not accessible if you've made further modifications. Remove the custom ad blocker rule(s) and the page will load as expected.