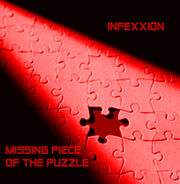 Missing Piece Of The Puzzle is the debut album from Infexxion. The album features many different elements from multiple genres, but retains a 'metal' style of music throughout. Elements of punk, rock, synthrock, nu metal, rap rock, and hard rock are all present. Most of the songs on the album were written by lead singer Johnny Deck. The album did not recieve kind reviews from critics, but it did get Infexxion's name into the public. Instead of a tour supporting the album, the band jumped straight into working on their sophomore album due to bassist Jasper Fade injuring his leg.
On the band's website, two demo names were posted. "Burn Burn" and "Next Stop: Hell". Burn Burn was put onto the album, although with a small title change. The other song is nowhere to be found, though a demo does exist, it hasn't been released to the public. The album was written in about a month, and recorded in about the same amount of time.
Ad blocker interference detected!
Wikia is a free-to-use site that makes money from advertising. We have a modified experience for viewers using ad blockers

Wikia is not accessible if you've made further modifications. Remove the custom ad blocker rule(s) and the page will load as expected.