Natalya Banhart



Background information
Birth name
Natalya Veronica Banhart
Born
May 14th, 1989
Origin
Buffalo, New York
Genre(s)
Pop, J-Pop, Rock
Occupation(s)
Singer, Songwriter, Model, Dancer, Actress
Years active
2008-
Label(s)
Metamorphosis Records
Associated acts
Katie Price, Daphne Aguilera, Yumi Takahashi

Natalya Banhart is a pop/dance singer/songwriter from Buffalo, New York. She debuted onto the music scene with her first single Supple on August 29th, 2008. Though she has yet to make an impact and is basically famous for being famous at the moment, Natalya is in high demand for collaborations with A-List artists and modeling. However she is hoping that when she releases her album, she will finally be known for her music.
Early Life
Edit
Natalya Banhart has been performing ever since she was little and has always dreamed of being a professional musician. Though her parents thought she didn't have what it took to be a star, and spent no time or money helping her further her career and giving all their attention to her older brother, Tristan Banhart, Natalya did learn about the Asian culture from her Chinese mother. She developed a love for Japan and began taking lessons to learn the language, as she wanted to have a bi-lingual music career.
At the age of 16 she was approached after singing in a local club in her native home of Buffalo, New York, and was offered the opportunity by a minor record label to come in and audition. Although she was liked by the majority, and was given the chance to record an album, she was told she would have no creative input in her work and therefore declined.
By the age of 18 she had dropped out of school and began a short career of glamour modeling to earn the initial capital to fund her own music career, with the hopes she would eventually be picked up by a label that would give her the input in her career that she wanted.
Music Career
Edit
Perfect Strangers Era
Edit
Banhart spent most of her free time writing songs and composing demos in her friend's studio to perform at clubs during the night,
while modeling most of the day. She also spent any free time taking vocal and piano lessons. Natalya wasted no time and sending out each demo the minute it was finished, however she was turned down every time, saying nothing "popped" and they needed something special. Natalya figured she needed to get out there and make a name for herself in order to get the recognition she needed for label owners to flock to her.
She released her debut single, Supple on 8/29/08, which sold little over 5,000 copies. But Natalya was determined. She knew it wouldn't do well, as it wasn't all that great, but it got her promotion which is just what she needed. It didn't take long for a contract to arrive to her house from Metamorphosis Records and she gladly accepted, mainly because she didn't have the money to fund her own music anymore.
Natalya got to work as soon as possible, and was busy with vocal lessons, dance lessons, writing lyrics, recording demos, doing photoshoots, and even appearing in a short film.
Banhart's second single (which she doesn't view as her official second single) was a charity single entitled Breathe, which consisted of three covers of hits by other popstars. It faired much better than her debut, peaking at 282 and selling over 90,000 copies. Breathe will not appear on the album.
Her soon to be released debut album is titled Perfect Strangers. A total of three more singles are planned to be released from it and she plans to do a small 5 date tour during it's first week to promote it, before shelving the project and getting to work on her Japanese debut in which she has high hopes for.
Acting Career
Edit
Though never planning to pursue acting as a full time career, Natalya has always had an interest in trying it out.
After her debut single was released, rumors started circulating that Natalya was going to be appearing in a film very soon. This was confirmed after a small clip of Natalya acting in a movie was leaked onto Youtube. The clip depicted Natalya looking in the mirror and crying.
The day after the leak of this clip, Across The Street Films stated that Natalya would be appearing in their short film, Traffic In The Sky, playing the character of Liane.
Natalya recieved mixed reviews for her performance, some saying she was very believable, others saying she can't act to save her life. Banhart said in response to the negative reviews: "You know, it is what it is. None of us are effing Meryl Streep, none of us are experienced and seasoned actors. We are all new to this, and I think each one of us brought something special to this movie. I'm proud of it and glad that I was given the opportunity."
Though Traffic In The Sky was only a minor success, Natalya's character of Liane already has a cult following.
Banhart has no other acting plans in the near future as of now, as she wants to focus on her true love, music.
Just days after her debut single release, pictures of Natalya in scantily-clad clothing and posing provocativly were released to news stations around the world. The man behind it all was the photographer from Natalya's then modeling days, Randy Ibbit. He decided to capitalize on her growing success with the news headline "Natalya isn't as wholesome as you think."
When asked to respond to the pictures and headline, Banhart was quoted saying, "I've never denied my past, and have always discussed my glamour modeling. I just never thought the pictures would get out and to be honest I'm a bit embarressed. Honestly, I hope my fans and others don't think less of me, as the girl you see in those pictures isn't real, she's a character. And that character is the reason I am able to bring music to you today and is what allowed me to fulfill my dreams and do what I love. I just hope my younger fans don't see these, and that the sad act that distributed these photos gets whats coming to him."
Though Banhart denies having anything to do with their release, others are more skeptical.
Hans Christian Frankenstein of the band DeathandtheFiend said in response to the photos, "Who cares? What female pop star hasn't taken dirty pictures? What a "coincidence" that these photos show up after her single flopped. I'm sure she had nothing to do with it (rolling his eyes). She needs to drop the publicity stunts and focus on making music."
Natalya has decided to put the scandal behind her and enjoy life and her career.
Personal Life
Edit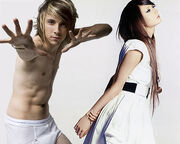 Natalya tries to keep her personal life private, and can go from happy and joyful to annoyed in seconds if it is brought up in interviews.
During an interview with Elle Magazine, Natalya was asked if she was dating Jake Murder of the band fAthOm as reported. She said in response, "(rolling her eyes) Look, I don't really like to get into my personal life too much, but seeing as how this concerns someone else in the spotlight and I don't want any negative press for him, I'll speak. No we are not a couple. He asked if I wanted to go out sometime, and I accepted. However not only are we not a couple but we haven't even been on a date yet."
Only a few days later however, after being seen numerous times together going to restaurants, bars, clubs, and other outings, the paparazzi hounded them for pictures and interviews until they were forced to confirm that yes, they were a couple.
Discography
Edit
Main Article: Natalya Banhart discography
Nominations
Edit
2008: 16th International Music Awards - Best Newcomer
2008: 16th International Music Awards - Best Artwork
2008: 16th International Music Awards - Best Personality
2008: 16th International Music Awards - Most Attractive Female
2008: 16th International Music Awards - Most Hardworking
2008: 16th International Music Awards - Best Newcomer
2008: 16th International Music Awards - Most Attractive Female
Ad blocker interference detected!
Wikia is a free-to-use site that makes money from advertising. We have a modified experience for viewers using ad blockers

Wikia is not accessible if you've made further modifications. Remove the custom ad blocker rule(s) and the page will load as expected.