Sora Asami
空麻美


Background information
Birth name
Sora Asami
Born
February 2nd, 1990
Origin
Okinawa, Japan
Genre(s)
J-Pop, J-Urban
Occupation(s)
Singer, Songwriter, Dancer
Years active
2008-
Label(s)
Urban Kiss Records
Associated acts
Yumi Takahashi, mitsuko, Hitomi Hayashi
Sora Asami (Asami Sora; 空麻美) is a Japanese pop singer from Okinawa, Japan who now resides in London, England. She debuted with her first single POWER. Although she has yet to set the charts on fire, she has a promising career ahead of her.
Early Life
Edit
Sora was born in Okinawa, Japan, where she was brought up by her wealthy mother and father until the age of 7 when they moved to London, England. She has not been back to Asia since.
Asami didn't discover her 4 octave vocal range until being asked to sing at her grandmother's funeral, and from then on she had aspirations to become a professional singer. Coming from a wealthy background, Sora had no problems taking as many vocal and dance lessons as she needed in her early teens. Her parents, with high hopes for her career, bought a recording studio where she spent most of her days cutting demos.
Music Career
Edit
Morning Glory Era
Edit
Asami began to record her debut album at the age of 17, with a plan to spend a year writing and recording to achieve perfection.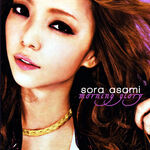 She discarded the first 20 songs, not happy with the lyrics or composition of them. Asami also decided to do a bilingual album. Though she figured an English album would do better in the UK, being a Japan native she wanted to honor that. It wasn't until she was approached by Bloodshy & Avant (they had heard a few demos and were very impressed by her voice and attitude) and was offered the chance to do some songs with them, that she recorded what she thought was the perfect first single, without even recording the other tracks yet. The song was entitled
POWER
, an engergetic electric club-stomper. Sora translated the lyrics into Japanese (with a few lines of English throughout) and recorded it immediatly.
The next months included photoshoots, recording, and writing. Asami decided on the name Morning Glory because the seeds of a morning glory flower can be used as hallucinogens and listening to the album is like going into a trance.
The debut single, POWER, was released on 9/30/08 and despite it's rave reviews, failed to make a huge impact on the charts, not even entering the top 200 and sold over 90,000 copies.
Discography
Edit
Release
Title
Peak Position(s)
Overall Sales
CAN
USA
UK
EUR
AUS
ASIA
SA
WORLD
TBA
Morning Glory
-
-
TBA
-
-
-
-
TBA
TBA
Nominations
Edit
2008: 16th International Music Awards - Best Newcomer
2008: 16th International Music Awards - Most Attractive Female
Ad blocker interference detected!
Wikia is a free-to-use site that makes money from advertising. We have a modified experience for viewers using ad blockers

Wikia is not accessible if you've made further modifications. Remove the custom ad blocker rule(s) and the page will load as expected.