The End - Three Part Album
Edit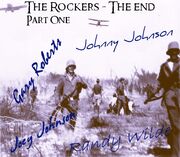 "The End" is The Rockers final album that was released in 3 parts over 2 and a half months from January 13th to March 3rd, 2010.
Recording
Edit
The album was recorded in New York City at the main V-Records building. It is comprised of songs written over the course of 5 months previously.
The albums were met with great reviews especially the last two. "The best in a while from The Rockers"
Ad blocker interference detected!
Wikia is a free-to-use site that makes money from advertising. We have a modified experience for viewers using ad blockers

Wikia is not accessible if you've made further modifications. Remove the custom ad blocker rule(s) and the page will load as expected.