The Spitfires

Image

Pete (left) and Alex (right) performing live at East End Park, in Leeds

Origin

Leeds, England

Genres

Indie rock
Britpop
Post-punk revival
Garage rock revival
Lo-fi
Folk rock

Years active

2008-present

Label(s)

Members

Former Members

Steve Owen, Donnie Colbert
The Spitfires is an Indie rock band based in Leeds, UK. The band's original line-up consisted of Pete Dunham (lead guitar and vocals), Alex Stone (rhythm guitar and vocals), Steve Owen (bass guitar) and Donnie Colbert (drums), but Steve and Donnie left the band due to financial disputes. The band has been signed to Failure to Launch Records since their second single release and has recently built a solid fanbase in the UK, although they are yet to gain international fame.
The Spitfires as known today was only formed in mid 2008, however Pete Dunham and Alex Stone have a long history together that goes back to their childhood. Both Alex and Pete got their first guitars in 2002, when they were 13 and 15 respectively. They were taught how to play by an old friend of theirs, known to the general public only as Megan, who was allegedly also Pete's girlfriend at the time.
In 2007 Pete and Alex met Steve and Donnie at a festival and decided to form The Spitfires, but they didn't got together until May 2008. They released their first single, "Down In Crossgates", in March 2008, after which the band has signed a contract with Failure to Launch Records.
In June 2008 Steve and Donnie left the band, claiming that Pete and Alex were getting 80% of the band's profit, while Steve and Donnie only got 10% each. Pete responded by saying that it was only fair that he and Alex got most of the money, since they did most of the band's work and all of the song writing.
Pete and Alex then decided to take a new approach to music, inspired by the latest performances of Noel Gallagher and Gem Archer from Oasis (namely "The Cabaret Sauvage" in Paris, 2006) and by The Last Shadow Puppets. They have adapted most of their songs to be played only with an electric and an acoustic guitar, a snare and a tambourine.
Musical Style
Edit
The Spitfires' early musical style was heavily influenced by Oasis and Arctic Monkeys, with lots of distortion and simple lyrics filled with humour. Recently, however, the band has shown a great versatility by changing their style on each of their latest releases. Currently the band is described as being a mixture of Noel Gallagher with The Last Shadow Puppets.
Live Performances
Edit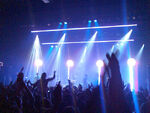 The Spitfires live appearances are markedly simple, without any fancy fireworks and effects, except for lighting effects. They are known for their sing-along nature and fan participation, in a similar style to that of Oasis and Arctic Monkeys. Fans frequently join in, with entire verses typically sung by the crowd. They are also known for playing several covers in their gigs.
The Spitfires like to play in festivals and large, open air events, however, recently they have been making a number of small, intimate performances in the Yorkshire area, playing a mix of old and new songs.
The Spitfires have covered a number of bands, both on live performances and records. They have covered bands such as Oasis, Arctic Monkeys, GirlSpice, The Only Ones and The Libertines.
Ad blocker interference detected!
Wikia is a free-to-use site that makes money from advertising. We have a modified experience for viewers using ad blockers

Wikia is not accessible if you've made further modifications. Remove the custom ad blocker rule(s) and the page will load as expected.