Yumi Takahashi
高橋 由美


Background information
Birth name
Yumi Takahashi
Born
April 26, 1986
Origin
Tokyo, Japan
Genre(s)
J-Pop, R&B
Occupation(s)
Singer, songwriter, producer, record executive
Years active
2007 - present
Label(s)
Eventual Records, Alpha Omega Records, Urban Kiss Records
Associated acts
Juno Takahashi, mitsuko, Hitomi Hayashi
Yumi Takahashi (Takahashi Yumi; 高橋 由美) is a Japanese urban pop singer from Tokyo, Japan who debuted in 2007 with DIAMOND WAVE. Takahashi did not achieve major success until the release of her seventh single, 愛のうた. Her popularity reached a new level at the end of 2007, after the release of LAST ANGEL and Destination Nowhere. Her latest studio album Kingdom has sold just under 4 million copies, and has been a huge international success.
Early Life
Edit
Takahashi was born in Tokyo, Japan, she was raised by both her mother and father there until she was three years old. During the time Takahashi was three, her family moved out to Toronto, Canada. This is where Takahashi grew up, though she did fly back to Japan on a regular basis.
Takahashi began to take interest in singing after watching her mother singing at a Karaoke bar back on one of their many visits to Japan. This inspired Takahashi to write her own songs. She ended up taking vocal classes in her late teens, while in college to major in graphic design.
Music Career
Edit
Girls on Top era
Edit
Takahashi gained a large presence online thorough her blog, where she would post clips of her singing, dancing videos, and post up her lyrics. Takahashi had sent demo tapes to countless record labels before it was suggested to Takahashi to release her own material by herself from a reader of her online blog. Takahashi took this in to deep consideration, and ended up releasing her debut single
DIAMOND WAVE
which ended up selling a total 33,001 copies and failed to chart anywhere even near the top 200. Though Takahashi recieved great feedback from the readers of her online blog, so she decided to continue to release her second single
BUT
. This single faired better in the charts but was still considered a huge flop.
Soon after came the release of three more singles.
GO! My Heaven
, Takahashi's third single did slightly better than her previous two single, but was still considered a flop. Takahashi's 4th single
Climax
, managed to sell a total of 138,276 copies, breaking the 100,000 mark, which none of her previous released had been able to do, but still failed to gain any attention for Takahashi. With the release of her 5th single
FUNKY TOWN
she managed to gain some attention, with the singing charting within the top 200 and selling over 300,000 copies, it was also her first single to ever chart in the United States of America.
Takahashi finally released her debut album Girls on Top, after the release of her 5th single. The album strangely did not feature her first two singles on it, though her 3rd, 4th and 5th singles were all included on the album. The album managed to peak at number 153 on the charts in Asia and sold a total of 376,436 copies. After this album was released Takahashi announced she'd be taking a short hiatus to focus on her studies.
Black Cherry era
Edit
Takahashi returned to the music scene seven months after the release of her debut album with her 6th single
愛のうた
(Ai no Uta; Love Song). The single was a huge success for Takahashi's standards at that time. The single charted in 4 regions and peaked at number 65 on the charts in Asia, selling just under 900,000 copies. This single brought upon Takahashi's first major success, where she was getting considerable recognition by the public. Takahashi then released her 7th single
is this LOVE?
which charted in 7 regions and was her first single to sell over 1 million copies with a total of 1,257,771 copies sold in the end, the single also peaked at number 64 on the charts in Asia.
During this time Takahashi was nominated for 2 awards at the 10th IMA's/Birdies, she was nominated for Most Attractive Female and Best Artwork for the cover art of her 6th single 愛のうた. Though Takahashi did not win any awards, this had proved that she was rising in success.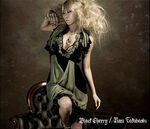 Takahashi was offered her first recording contract with
Eventual Records
, which was one of the biggest record labels at the time. Takahashi took this offer without hesitation. Later Takahashi released her 8th single, and her first single on Eventual Records,
恋のつぼみ
(Koi no Tsubomi; Love Bub) was released on November 25, 2007, and peaked at number 29 on the charts in Asia. Takahashi continued to release the singles
LAST ANGEL
and
Destination Nowhere
both of which were a moderate success.
On December 22, 2007 Takahashi released her second studio album titled Black Cherry. The album was released in three versions, a CD version, CD+DVD version and a CD+2DVD version. The first DVD that came with the album contained all the music videos that Takahashi had released from her 6th single to her 10th single, and the second DVD contained live footage from her Girls on Top Tour. The album was a huge success taking the number one spot on the charts in Asia and took the number 5 spot on the charts in the United States. In total the album sold 3,012,144 copies.
Takahashi then released two more singles off her second studio album. Both キス14 (Kiss14) and Under were great successes. Under, Takahashi's 12th single overall, ended up charting at number 3 on the charts in Asia.
LOVERS ~forever~ & Goodbye Eventual Records
Edit
Soon after the release of Takahashi's 12th single, she released her first remix album titled LOVERS ~forever~. The album is filled with remixes from ballads that she had released during her career. By releasing this album, it also freed Takahashi of her contractual obligations to Eventual Records, who was in the process of officially closing down. The album however did extremely well in the charts, peaking at number 1 in Asia, number 3 in the United States and number 8 in the UK.
Soon after the announcement that Takahashi was leaving Eventual Records, an official announcement was made by Alpha Omega Records that Takahashi has been signed with them.
Kingdom era
Edit
With Takahashi signed to a new record label she took very little time before releasing her next single Bounce / 秘密. The single was a double A-sided single and peaked at number 4 on the charts in Asia.
Takahashi continued on to release her next single
SHAKE IT
which sold well, but ended up being her lowest charting single in Asia since the release of her 9th single
LAST ANGEL
, on the flip side it was also Takahashi's second highest charting single in the UK at that point, peaking at number 5 on the charts. The release of the single
MORE
came next, which charted in the top 5 in the United Kingdom, United States, Canada and Australia, making it Takahashi's highest charting single in both the United States and Australia up to that point. Shortly after, Takahashi announced the release of her next single
Candy feat. Averex
, which was a collaboration with the R&B artist Averex and also marked the first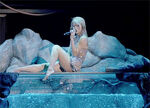 collaboration Takahashi has ever released on her discography. The single proved to be a smash hit though, charting gaining Takahashi her first number one ever in the United Kingdom. Though the single failed to chart within the top 5 anywhere, it did manage to make it into the top 10 in four regions across the globe. Takahashi later announced yet another single titled
Come Back
, which ended up being an even bigger hit then her previous single. It managed to grab the number one spot in both the United Kingdom and the United States, making the single her first number one in the United States, and second consecutive number one single in the United Kingdom. During this time, Yumi Takahashi also had her performance on the 13th International Music Awards, in which she performed
Candy feat. Averex
, a meledy of
MORE
and
Come Back
, and
SHAKE IT
. Takahashi released her third studio album
Kingdom
on May 28, 2008 which peaked in the top 5 in both Canada and the United Kingdom. The album also peaked in the top 10 in the United States and in Asia.
Post Kingdom era
Edit
After the smash hit of her 17th single, Takahashi came back onto the scene with the quadruple a-sided single Secret Room. The single did moderately well in the charts and managed to chart within the top 3 in the United States and Asia. Around this time Takahashi's image became more racy, with her sexual performances, and questionable videos. Takahashi did not continue this trend however with the release of her 18th single DISTURBER / Confusion, which took on an edgier sound to it. The single was more rock inspired compared to her more Urban sound. The single was Takahashi's second double a-sided single and managed to peak on the charts in the top three in the United Kingdom, the United States and Asia. Soon after Takahashi released her next single Dear Family, the single did well in the charts, topping the charts in the United Kingdom and the United States at number one and charting in the top 3 in Canada. The single became her third to reach number one in the charts.
Takahashi was announced to be a performer for the opening of the Jellyfish Productions office in Tokyo, Japan. Soon after this announcement she officially announced the release of her 21st single TABOO, she performed TABOO for the first time during the Jellyfish Productions opening event in Tokyo, Japan. Soon after her performance the single was released and managed to chart in the top three in the United Kingdom. Takahashi then, after months of her tour being over, released her first live tour DVD Black Cherry Live Tour 2008. Takahashi later announced the release of her 22nd single 恋のおくりもの which was released on September 28, 2008. The single became Takahashi's first to hit number one in Asia, a long time goal for her since her debut, the single also managed to peak at number 2 in the United Kingdom, number 5 in the United States and number 6 in Canada.
On October 21, 2008 it was officially announced that Takahashi was working to release her 4th studio album which was not given an exact release date, but promised to be released late 2008 to early 2009. Soon after the title was announced to be "Urban Fever" along with the covers, the album was also confirmed to be released in 4 different versions, a CD only version, a CD plus DVD version, a UK Edition version and a Japanese Edition version. However the album was later canceled and her 4th album was announced to be rescheduled for a later release date and with entirely new concept.
Ventures
Edit
Urban Kiss Records
Edit
on September 18, 2008 Takahashi announced the opening of a new record label, which she officially named Urban Kiss Records, announcing herself as the president and CEO of the label.
Discography
Edit
Main Article: Yumi Takahashi discography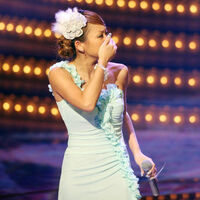 2008: 13th International Music Awards - Best Solo Artist
2008: 14th International Music Awards - Best International Artist
2008: 1st Talent Awards - Best Live Act